Today I was suppose to run, but I didn't (sorry coach). My legs are still a bit sore...need to do more stretching and tomorrow morning I have a run and will do zumba at night. I didn't plan to not run; however by the time I did errands and prepared for dinner it was late for me to run.
I came home and made Chebe pizza crust for crackers, got a salad ready (for never before tried yogurt dressing) then sliced carrots and cut broccoli florets for side, sliced a previously baked potato for skipper frying and baked salmon with seasoning. I think Betty Croker would be satisfied.
After mixing in food processor, put between two sheets of parchment paper and roll out with your rolling pin.
After baking on pizza stone.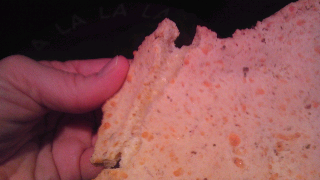 Tapioca flour = chewiness.
Prepped dinner. . . finished product = clean plate.